Moist chocolate orange cake
Cooking Time
45-50 minutes
Ingredients
List of ingredients (4 people)
200 g of pastry dark chocolate
100 g of cornstarch (Maizena)
100 g of almond powder
80 g brown sugar
2 eggs
150 ml of milk
1/2 sachet of yeast
1 teaspoon of baking soda
100 g of apple compote without added sugar
Zest of an organic orange
The juice of an organic orange
Preferably use a round mold 18 cm in diameter.
Instructions
Melt the chocolate in the microwave or in a double boiler
Set aside 3 tbsp. melted chocolate for the topping
Whisk the eggs and the brown sugar in a large bowl until the mixture is foamy.
Add the zest of an orange, mix, and add the milk (or soy or almond milk for a lactose-free version)
Add the apple compote, mix
Add the melted chocolate, mix
Then add the dry ingredients: yeast, almond powder, baking soda, cornstarch
Place everything in a non-stick mold (18 cm in diameter)
Bake at 180 ° C for 45-50 min.
At the exit of the oven, plant the blade of a knife in the center, if it comes out dry it is good, otherwise cover with aluminum foil and put back in the oven for 5 to 10 minutes.
While the cake is hot, pour the juice of an orange over it, to soak it
Cover with the 3 tablespoons of melted chocolate and enjoy.
Tips
Here is a gourmet cake without butter and gluten. Apple compote replaces traditional butter here. For a lactose-free version, the milk can be substituted with almond or soy milk.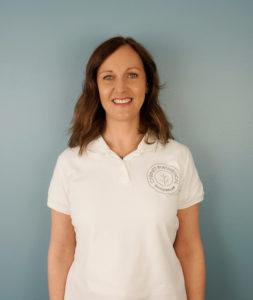 Cécile Valton
Dietician
Cécile Valton, a qualified dietician, offers private consultations at the Centre Paramédical de Schouweiler.
Hippocrates, the ancient Greek physician, said: "Let your food be your primary medicine". A healthy, balanced and tasty diet is one of the essential pillars for good physical and mental health!
Passionate about my work, I am committed to accompanying my patients in a caring and educational way. Each person is unique and each story different: together, let's set health objectives in line with your desires, your ethics, your body and your lifestyle.