Light No-Bake Passion Fruit Cheesecake
Preparation Time
20 minutes
Resting Time
minimum 4 hours
Ingredients
List of ingredients (6 people):
For the cheesecake:
• 500 g cottage cheese
• 3 sheets of gelatin
• 60 g of sugar
• 2 organic lemons
• 200 g of shortbread biscuits of your choice
• 50 g of melted butter or coconut oil
For the passion fruit jelly:
• 2 big passion fruits
• 40 g of sugar
• 1 sheet of gelatin
Instructions
Preparing the cheesecake:
Provide a mold of 18 cm in diameter.
Blend the shortbread biscuits
When they form a powder, add melted butter or coconut oil. Mix again.
In a mould, line the bottom with the mixed shortbread then place in the refrigerator.
Meanwhile, in a bowl, vigorously mix the cottage cheese with the sugar.
Soak the 3 sheets of gelatin in cold water for 5 minutes to soften them.
Meanwhile, heat the juice of the 2 lemons and the zest in a saucepan.
Off the heat, add the drained gelatine leaves and mix well.
Incorporate the lemon preparation into the cottage cheese and sugar mixture.
Pour the preparation into the mould.
Place in the fridge for at least 4 hours.
When the cheesecake is cold, you can prepare the jelly:
Soften a sheet of gelatin in a bowl of cold water for 5 minutes.
Empty the 2 passion fruits with a small spoon and place in a saucepan.
Add the sugar and 2 tablespoons of water and bring to a simmer.
Off the heat, add the gelatin sheet.
Mix vigorously.
Leave the jelly to cool for a few minutes and pour it over the cheesecake.
Smooth the jelly and sprinkle with unsalted pistachios.
Tips
A no-bake cottage cheesecake, full of protein and smooth. Gelatin is used here to give a firmer texture to cottage cheese, without increasing the calories by adding cream or mascarpone as in some recipes. Passion fruit, antioxidant and rich in vitamin C, brings a unique tangy flavor to this light cheesecake.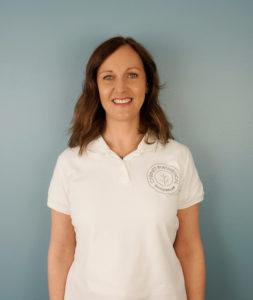 Cécile Valton
Dietician
Cécile Valton, a qualified dietician, offers private consultations at the Centre Paramédical de Schouweiler.
Hippocrates, the ancient Greek physician, said: "Let your food be your primary medicine". A healthy, balanced and tasty diet is one of the essential pillars for good physical and mental health!
Passionate about my work, I am committed to accompanying my patients in a caring and educational way. Each person is unique and each story different: together, let's set health objectives in line with your desires, your ethics, your body and your lifestyle.