Veggie Caesar Salad
Preparation Time
20 minutes
Ingredients
Ingredients for 2 servings:
For the dressing:
50g cashew nuts
60ml water
1 teaspoon mustard
1 squeeze of lemon juice
Salt and pepper
For the salad:
2 eggs
150g cherry tomatoes
1 tablespoon olive oil
160g veggie "chicken"
150g lettuce
50g croutons
2 tablespoons shaved parmesan
Instructions
Place the cashew nuts in a bowl and pour boiling water over them. Leave to soak for 10 minutes.
In the meantime, boil the eggs in boiling water for 10 minutes.
Wash the tomatoes and cut them in half.
Fry the veggie chicken in a pan with olive oil.
Drain cashew nuts and blend with 60ml cold water, mustard, lemon juice, salt and pepper in a blender until you get a smooth texture.
Remove the eggs from the water, peel and quarter them.
Arrange the lettuce in a bowl with the tomatoes, eggs, veggie chicken, parmesan cheese and croutons and pour the dressing over the salad.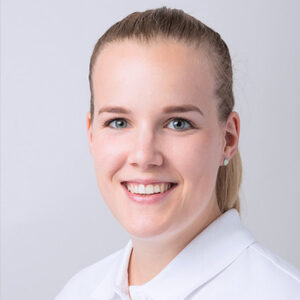 Tammy Diderich
Dietician
After my studies in dietetics, I specialised in nutrition for athletes. I work in Sportslycée and also accompany athletes from LIHPS. In addition, I have specialised in intuitive nutrition, which helps me to guide people back to a natural and relaxed eating behaviour. My passion is cooking and developing new recipes, which I love to share with others. My motto in the kitchen is: "Healthy, Fast and Simple".