Stampot with kale and halloumi
Preparation Time
20 minutes
Ingredients
Liste of ingredients for 4 servings:
500 g potatoes
2 sweet potatoes
400 g kale
2 cloves of garlic
10 dried tomatoes
400 g halloumi cheese
Mustard
Butter
Olive oil
1 vegetable stock cube
Dried oregano
Pepper and salt
Instructions
Peel the potatoes and sweet potatoes and cut them into large pieces.
Place them in a saucepan and cover with cold water and the vegetable stock.
Bring to the boil and cook for about 25 minutes.
In the meantime, cut the stems of the kale and chop it into small pieces.
Heat 1 tablespoon of butter in a frying pan and fry 1 crushed garlic clove.
Add the kale and cook for 10 minutes.
Add the chopped sun-dried tomatoes to the kale and cook for 2 minutes.
Season with salt and pepper.
When the potatoes are cooked, remove the cooking water and save it in a bowl.
Mash the potatoes and sweet potatoes to a thick purée.
Add 1 tablespoon of butter, 1 to 2 tablespoons of mustard and a little cooking water if necessary.
Adjust the seasoning if necessary.
Add the kale to the mash and mix well.
At the last minute, heat a frying pan with a little olive oil and a crushed garlic clove.
Cut the halloumi into ½ cm thick slices.
Fry the halloumi for 2 to 3 minutes on each side until golden brown.
Sprinkle halloumi with dried oregano.
Serve the stampot on plates with the halloumi.
Tips
Kale is eaten in January, February and March. It is considered a "superfood" because of its high vitamin A content: a few leaves are enough to cover your daily requirement of vitamin A, which is essential for healthy eyes and skin, as well as for a well-functioning immune system. Kale is also rich in vitamin C, vitamin K and calcium. This vegetarian stampot, served with halloumi, a Cypriot cheese made from goat's and sheep's milk, will therefore provide you with a good supply of vitamins and minerals and will warm you up in winter!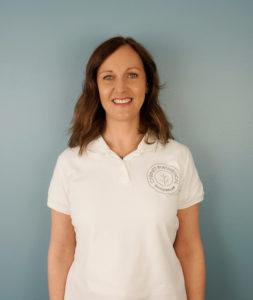 Cécile Valton
Dietician
Cécile Valton, a qualified dietician, offers private consultations at the Centre Paramédical de Schouweiler.
Hippocrates, the ancient Greek physician, said: "Let your food be your primary medicine". A healthy, balanced and tasty diet is one of the essential pillars for good physical and mental health!
Passionate about my work, I am committed to accompanying my patients in a caring and educational way. Each person is unique and each story different: together, let's set health objectives in line with your desires, your ethics, your body and your lifestyle.